Wednesday's Words: Almost Exactly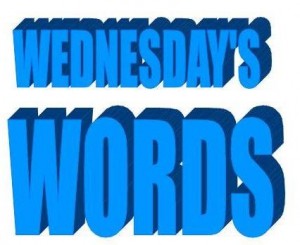 My mother died almost exactly three years ago. To understand the humor rather than the pathos behind that sentence, I'll have to tell you a bit about my mother. She spoke with perfect diction, in unstilted, unaccented English, and she loved words and word games, especially the kind of game where you take a word or phrase and find as many smaller words as possible. For example: in "almost exactly" you can find most, call, cell, yell, exact, alas, etc. (Me? I hate that game, perhaps because I could never win when I played with her.)
It came as a shock to me when I realized as an adult that my mother was a first generation American who grew up speaking a language other than English. I always knew that, of course, but as a child you accept your mother for who she is without seeing her in the broader context of life. We often think of first generation Americans as people who have a rough time speaking English (or who speak rough English), but neither she nor any of her siblings had a hint of that other language in their voices.
She raised her family with a respect for language. No slang at our house. No "ain't" or "we got no" or any other example of language slippage. She was strict, and we children seldom talked back, but there was one thing we all argued about with her: "almost exactly." She claimed "exactly" had no degrees. A thing was either exact or almost. The rest of us knew the truth: there is a world of difference between almost and exact. And therein lies "almost exactly."
Though occasionally I use "almost exactly" in speech, I try not to use it in my writing. It's one thing to use such a construction when talking and something else entirely to commit it to the permanency of writing, and I don't want to meet her in some afterlife and have her start in on that old argument.
On the other hand, it might be nice.
(Wednesday's Words is a weekly feature of this blog. Since everything pertains to words in one way or another, Wednesday's Words is synonymous with life.)

»» 7 Responses to "Wednesday's Words: Almost Exactly" »»